I'm going to be through what books I will be trying to read through in the month of June! Some of these will be rereads, new books and even some ARCs! I hope you enjoy this list! All Synopsis are provided by Goodreads.
1. Heart of the Impaler
Ilona Csáki has no desire to marry the voivode's eldest son, but love and marriage are the least of her worries.
The royal family's enemies have already tried to put an arrow through her back—and if anyone discovers her blossoming feelings for her betrothed's cousin Andrei, and younger brother, Vlad, she may just wish they'd succeeded.
Beneath the shadow of impending war, the only battle that will be deadlier than the one for Ilona's life will be the one for her heart.
Thank you to NetGalley for providing me an arc of Heart of the Impaler in exchange for an honest review!! This book sounds so interesting and sounds like it would be up my alley! I can't wait to start reading it! I hope that it also isn't a big disappointment and that I end up enjoying it!!
2. City of Shattered Light
As darkness closes in on the city of shattered light, an heiress and an outlaw must decide whether to fend for themselves or fight for each other.
As heiress to a powerful tech empire, seventeen-year-old Asa Almeida strives to prove she's more than her manipulative father's shadow. But when he uploads her rebellious sister's mind to an experimental brain, Asa will do anything to save her sister from reprogramming—including fleeing her predetermined future with her sister's digitized mind in tow. With a bounty on her head and a rogue A.I. hunting her, Asa's getaway ship crash-lands in the worst possible place: the neon-drenched outlaw paradise, Requiem.
Gun-slinging smuggler Riven Hawthorne is determined to claw her way up Requiem's underworld hierarchy. A runaway rich girl is exactly the bounty Riven needs—until a nasty computer virus spreads in Asa's wake, causing a citywide blackout and tech quarantine. To get the payout for Asa and save Requiem from the monster in its circuits, Riven must team up with her captive.
Riven breaks skulls the way Asa breaks circuits, but their opponent is unlike anything they've ever seen. The A.I. exploits the girls' darkest memories and deepest secrets, threatening to shatter the fragile alliance they're both depending on. As one of Requiem's 154-hour nights grows darker, the girls must decide whether to fend for themselves or fight for each other before Riven's city and Asa's sister are snuffed out forever
Thank you to NetGallery for providing me an arc of City of Shattered Light in exchange for an honest review!! Another book that I'm so excited to get into! The concept sounds so interesting, and I love books that have more of a futuristic aspect to them! The main characters also sound like they will be enjoyable, and hopefully, I will enjoy following them in their story.
3. The Poppy War
When Rin aced the Keju—the Empire-wide test to find the most talented youth to learn at the Academies—it was a shock to everyone: to the test officials, who couldn't believe a war orphan from Rooster Province could pass without cheating; to Rin's guardians, who believed they'd finally be able to marry her off and further their criminal enterprise; and to Rin herself, who realized she was finally free of the servitude and despair that had made up her daily existence. That she got into Sinegard—the most elite military school in Nikan—was even more surprising.
But surprises aren't always good.
Because being a dark-skinned peasant girl from the south is not an easy thing at Sinegard. Targeted from the outset by rival classmates for her color, poverty, and gender, Rin discovers she possesses a lethal, unearthly power—an aptitude for the nearly-mythical art of shamanism. Exploring the depths of her gift with the help of a seemingly insane teacher and psychoactive substances, Rin learns that gods long thought dead are very much alive—and that mastering control over those powers could mean more than just surviving school.
For while the Nikara Empire is at peace, the Federation of Mugen still lurks across a narrow sea. The militarily advanced Federation occupied Nikan for decades after the First Poppy War, and only barely lost the continent in the Second. And while most of the people are complacent to go about their lives, a few are aware that a Third Poppy War is just a spark away . . .
Rin's shamanic powers may be the only way to save her people. But as she finds out more about the god that has chosen her, the vengeful Phoenix, she fears that winning the war may cost her humanity . . . and that it may already be too late
I have been wanting to read this book since forever. I keep hearing such rave reviews from my fellow bloggers and Goodreads friends, so I hope it lives up to my expectations. The story, and the world sound, so amazing and I can't wait to see how the author executes all these elements into the book.
LGBTQ Readathon 2021 TBR
This will be the first Readathon that I will be posting for and updating on for my blog! I'm going to go through some books I plan to read for this Readathon!
This Readathon is hosted and created by Ross @ THE ROYAL BOOKSHELF and will last from June 1-30th. If you are interested in participating, here is the link for the Readathon to learn more information: #LGBTQMonth 2021: Announcement! – THE ROYAL BOOKSHELF (wordpress.com)
Prompts:
Debut
Choose a debut LGBTQ book
Cinderella is Dead by Kalynn Bayron
It's 200 years after Cinderella found her prince, but the fairy tale is over. Teen girls are now required to appear at the Annual Ball, where the men of the kingdom select wives based on a girl's display of finery. If a suitable match is not found, the girls not chosen are never heard from again. Sixteen-year-old Sophia would much rather marry Erin, her childhood best friend, than parade in front of suitors. At the ball, Sophia makes the desperate decision to flee, and finds herself hiding in Cinderella's mausoleum. There, she meets Constance, the last known descendant of Cinderella and her step sisters. Together they vow to bring down the king once and for all–and in the process, they learn that there's more to Cinderella's story than they ever knew . . .
Been in your TBR for too long
Choose a book that has been sitting on your TBR for far too long
You Should See Me in a Crown by Leah Johnson
Liz Lighty has always believed she's too black, too poor, too awkward to shine in her small, rich, prom-obsessed midwestern town. But it's okay — Liz has a plan that will get her out of Campbell, Indiana, forever: attend the uber-elite Pennington College, play in their world-famous orchestra, and become a doctor. But when the financial aid she was counting on unexpectedly falls through, Liz's plans come crashing down . . . until she's reminded of her school's scholarship for prom king and queen. There's nothing Liz wants to do less than endure a gauntlet of social media trolls, catty competitors, and humiliating public events, but despite her devastating fear of the spotlight she's willing to do whatever it takes to get to Pennington. The only thing that makes it halfway bearable is the new girl in school, Mack. She's smart, funny, and just as much of an outsider as Liz. But Mack is also in the running for queen. Will falling for the competition keep Liz from her dreams . . . or make them come true?
QPOC Author
Choose a book that has been written by a queer author of color
The Henna Wars by Adiba Jaigirdar
When Nishat comes out to her parents, they say she can be anyone she wants—as long as she isn't herself. Because Muslim girls aren't lesbians. Nishat doesn't want to hide who she is, but she also doesn't want to lose her relationship with her family. And her life only gets harder once a childhood friend walks back into her life. Flávia is beautiful and charismatic and Nishat falls for her instantly. But when a school competition invites students to create their own businesses, both Flávia and Nishat choose to do henna, even though Flávia is appropriating Nishat's culture. Amidst sabotage and school stress, their lives get more tangled—but Nishat can't quite get rid of her crush on Flávia, and realizes there might be more to her than she realized.
Set in the 20th Century
Choose a book that takes place between the years 1900 and 2000
The Chosen and the Beautiful by Nghi Vo
Jordan Baker grows up in the most rarefied circles of 1920s American society—she has money, education, a killer golf handicap, and invitations to some of the most exclusive parties of the Jazz Age. She's also queer, Asian, adopted, and treated as an exotic attraction by her peers, while the most important doors remain closed to her.
But the world is full of wonders: infernal pacts and dazzling illusions, lost ghosts and elemental mysteries. In all paper is fire, and Jordan can burn the cut paper heart out of a man. She just has to learn how.
Free Choice
Whatever book as long as it's LGBTQ+
The Upside of Unrequited by Becky Albertalli
Seventeen-year-old Molly Peskin-Suso knows all about unrequited love—she's lived through it twenty-six times. She crushes hard and crushes often, but always in secret. Because no matter how many times her twin sister, Cassie, tells her to woman up, Molly can't stomach the idea of rejection. So she's careful. Fat girls always have to be careful. Then a cute new girl enters Cassie's orbit, and for the first time ever, Molly's cynical twin is a lovesick mess. Meanwhile, Molly's totally not dying of loneliness—except for the part where she is. Luckily, Cassie's new girlfriend comes with a cute hipster-boy sidekick. Will is funny and flirtatious and just might be perfect crush material. Maybe more than crush material. And if Molly can win him over, she'll get her first kiss and she'll get her twin back. There's only one problem: Molly's coworker Reid. He's an awkward Tolkien superfan with a season pass to the Ren Faire, and there's absolutely no way Molly could fall for him. Right?
Set outside the UK or US
Choose a book that takes place in a country that isn't the UK or the US
Girl, Serpent, and Thorn by Melissa Bashardoust
There was and there was not, as all stories begin, a princess cursed to be poisonous to the touch. But for Soraya, who has lived her life hidden away, apart from her family, safe only in her gardens, it's not just a story. As the day of her twin brother's wedding approaches, Soraya must decide if she's willing to step outside of the shadows for the first time. Below in the dungeon is a demon who holds knowledge that she craves, the answer to her freedom. And above is a young man who isn't afraid of her, whose eyes linger not with fear, but with an understanding of who she is beneath the poison. Soraya thought she knew her place in the world, but when her choices lead to consequences she never imagined, she begins to question who she is and who she is becoming…human or demon. Princess or monster.
Bisexual Rep
Choose a book with Bisexual Representation
Leah on the Offbeat By Becky Albertalli
Leah Burke—girl-band drummer, master of deadpan, and Simon Spier's best friend from the award-winning Simon vs. the Homo Sapiens Agenda—takes center stage in this novel of first love and senior-year angst. When it comes to drumming, Leah Burke is usually on beat—but real life isn't always so rhythmic. An anomaly in her friend group, she's the only child of a young, single mom, and her life is decidedly less privileged. She loves to draw but is too self-conscious to show it. And even though her mom knows she's bisexual, she hasn't mustered the courage to tell her friends—not even her openly gay BFF, Simon. So Leah really doesn't know what to do when her rock-solid friend group starts to fracture in unexpected ways. With prom and college on the horizon, tensions are running high. It's hard for Leah to strike the right note while the people she loves are fighting—especially when she realizes she might love one of them more than she ever intended.
Pink Cover
Choose a book that has pink on its cover, however much!
Clap When you Land by Elizabeth Acevedo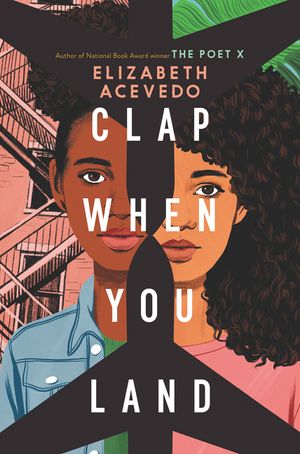 Camino Rios lives for the summers when her father visits her in the Dominican Republic. But this time, on the day when his plane is supposed to land, Camino arrives at the airport to see crowds of crying people… In New York City, Yahaira Rios is called to the principal's office, where her mother is waiting to tell her that her father, her hero, has died in a plane crash. Separated by distance—and Papi's secrets—the two girls are forced to face a new reality in which their father is dead and their lives are forever altered. And then, when it seems like they've lost everything of their father, they learn of each other.
A Book You Think You Will Love
Choose a book that you have a feeling you will love
Cemetery Boys by Aiden Thomas
Yadriel has summoned a ghost, and now he can't get rid of him. When his traditional Latinx family has problems accepting his gender, Yadriel becomes determined to prove himself a real brujo. With the help of his cousin and best friend Maritza, he performs the ritual himself, and then sets out to find the ghost of his murdered cousin and set it free. However, the ghost he summons is actually Julian Diaz, the school's resident bad boy, and Julian is not about to go quietly into death. He's determined to find out what happened and tie up some loose ends before he leaves. Left with no choice, Yadriel agrees to help Julian, so that they can both get what they want. But the longer Yadriel spends with Julian, the less he wants to let him leave.
Thanks for stopping by! See you next time!