Hey Guys!!
Welcome back to another monthly TBR! You may be wondering, why didn't I do a July TBR? I just decided I would go with the flow rather than have a planned-out schedule. Also, you may have noticed that I have been off for a while, and that's because I was on a short hiatus! But I'm glad to be back writing another post!

As you may have noticed, I will be participating in the Trope-ical Readathon! I have had my eye on this readathon for quite some time, so I decided I would go ahead and sign up! So I'm going to be going through my TBR for this readathon today!
Now Let's get started!
Trope-ical Readathon
This readathon is hosted by Jen @ JenJenReviews and Rob @ bookrob13! If you are interested in participating, I linked it above under Jen's name. I'm super excited to participate and hope to get through a good chunk of my TBR.
Common Prompts:
A reread:
The dashing young king, Nikolai Lantsov, has always had a gift for the impossible. No one knows what he endured in his country's bloody civil war–and he intends to keep it that way. Now, as enemies gather at his weakened borders, Nikolai must find a way to refill Ravka's coffers, forge new alliances, and stop a rising threat to the once-great Grisha Army.
Yet with every day a dark magic within him grows stronger, threatening to destroy all he has built. With the help of a young monk and a legendary Grisha general, Nikolai will journey to the places in Ravka where the deepest magic survives to vanquish the terrible legacy inside him. He will risk everything to save his country and himself. But some secrets aren't meant to stay buried–and some wounds aren't meant to heal.
Found Family:
Surrounded by enemies, the once-great nation of Ravka has been torn in two by the Shadow Fold, a swath of near impenetrable darkness crawling with monsters who feast on human flesh. Now its fate may rest on the shoulders of one lonely refugee.

Alina Starkov has never been good at anything. But when her regiment is attacked on the Fold and her best friend is brutally injured, Alina reveals a dormant power that saves his life—a power that could be the key to setting her war-ravaged country free. Wrenched from everything she knows, Alina is whisked away to the royal court to be trained as a member of the Grisha, the magical elite led by the mysterious Darkling.

Yet nothing in this lavish world is what it seems. With darkness looming and an entire kingdom depending on her untamed power, Alina will have to confront the secrets of the Grisha . . . and the secrets of her heart.
A meaty book (500 paged book):
The Demon King. As Fjerda's massive army prepares to invade, Nikolai Lantsov will summon every bit of his ingenuity and charm—and even the monster within—to win this fight. But a dark threat looms that cannot be defeated by a young king's gift for the impossible.
The Stormwitch. Zoya Nazyalensky has lost too much to war. She saw her mentor die and her worst enemy resurrected, and she refuses to bury another friend. Now duty demands she embrace her powers to become the weapon her country needs. No matter the cost.
The Queen of Mourning. Deep undercover, Nina Zenik risks discovery and death as she wages war on Fjerda from inside its capital. But her desire for revenge may cost her country its chance at freedom and Nina the chance to heal her grieving heart.
King. General. Spy. Together they must find a way to forge a future in the darkness. Or watch a nation fall.
An audiobook or ebook:
After her life is upended by divorce and a cross-country move, 16-year-old Saskia Brown feels like an outsider at her new school—not only is she a transplant, she's biracial in a population of mostly white students. One day while visiting her only friend at her part-time library job, Saskia encounters a vial of liquid mercury, then touches an old daguerreotype—the precursor of the modern-day photograph—and makes a startling discovery. She is somehow able to visit the man in the portrait: Robert Cornelius, a brilliant young inventor from the nineteenth century. The hitch: she can see him only in her dreams.
Saskia shares her revelation with some classmates, hoping to find connection and friendship among strangers. Under her guidance, the other girls steal portraits of young men from a local college's daguerreotype collection and try the dangerous experiment for themselves. Soon, they each form a bond with their own "Mercury Boy," from an injured Union soldier to a charming pickpocket in New York City.
At night, the girls visit the boys in their dreams. During the day, they hold clandestine meetings of their new secret society. At first, the Mercury Boys Club is a thrilling diversion from their troubled everyday lives, but it's not long before jealousy, violence, and secrets threaten everything the girls hold dear.
(Post) Apocalyptic Trope:
What was once the western United States is now home to the Republic, a nation perpetually at war with its neighbors. Born into an elite family in one of the Republic's wealthiest districts, fifteen-year-old June is a prodigy being groomed for success in the Republic's highest military circles. Born into the slums, fifteen-year-old Day is the country's most wanted criminal. But his motives may not be as malicious as they seem.
From very different worlds, June and Day have no reason to cross paths—until the day June's brother, Metias, is murdered and Day becomes the prime suspect. Caught in the ultimate game of cat and mouse, Day is in a race for his family's survival, while June seeks to avenge Metias's death. But in a shocking turn of events, the two uncover the truth of what has really brought them together, and the sinister lengths their country will go to keep its secrets.
Historical Figure:
Edward (long live the king) is the King of England. He's also dying, which is inconvenient, as he's only sixteen and he'd much rather be planning for his first kiss than considering who will inherit his crown…

Jane (reads too many books) is Edward's cousin, and far more interested in books than romance. Unfortunately for Jane, Edward has arranged to marry her off to secure the line of succession. And there's something a little odd about her intended…

Gifford (call him G) is a horse. That is, he's an Eðian (eth-y-un, for the uninitiated). Every day at dawn he becomes a noble chestnut steed—but then he wakes at dusk with a mouthful of hay. It's all very undignified.

The plot thickens as Edward, Jane, and G are drawn into a dangerous conspiracy. With the fate of the kingdom at stake, our heroes will have to engage in some conspiring of their own. But can they pull off their plan before it's off with their heads?
All happens in one day:
Natasha: I'm a girl who believes in science and facts. Not fate. Not destiny. Or dreams that will never come true. I'm definitely not the kind of girl who meets a cute boy on a crowded New York City street and falls in love with him. Not when my family is twelve hours away from being deported to Jamaica. Falling in love with him won't be my story.
Daniel: I've always been the good son, the good student, living up to my parents' high expectations. Never the poet. Or the dreamer. But when I see her, I forget about all that. Something about Natasha makes me think that fate has something much more extraordinary in store—for both of us.
The Universe: Every moment in our lives has brought us to this single moment. A million futures lie before us. Which one will come true?
Multiple POVs:
Welcome to Niveus Private Academy, where money paves the hallways, and the students are never less than perfect. Until now. Because anonymous texter, Aces, is bringing two students' dark secrets to light.

Talented musician Devon buries himself in rehearsals, but he can't escape the spotlight when his private photos go public. Head girl Chiamaka isn't afraid to get what she wants, but soon everyone will know the price she has paid for power.

Someone is out to get them both. Someone who holds all the aces. And they're planning much more than a high-school game…
A genre you don't usually read:
Avery Grambs has a plan for a better future: survive high school, win a scholarship, and get out. But her fortunes change in an instant when billionaire Tobias Hawthorne dies and leaves Avery virtually his entire fortune. The catch? Avery has no idea why–or even who Tobias Hawthorne is. To receive her inheritance, Avery must move into sprawling, secret passage-filled Hawthorne House, where every room bears the old man's touch–and his love of puzzles, riddles, and codes.
Unfortunately for Avery, Hawthorne House is also occupied by the family that Tobias Hawthorne just dispossessed. This includes the four Hawthorne grandsons: dangerous, magnetic, brilliant boys who grew up with every expectation that one day, they would inherit billions. Heir apparent Grayson Hawthorne is convinced that Avery must be a con-woman, and he's determined to take her down. His brother, Jameson, views her as their grandfather's last hurrah: a twisted riddle, a puzzle to be solved. Caught in a world of wealth and privilege, with danger around every turn, Avery will have to play the game herself just to survive.
Retelling:
It's 200 years after Cinderella found her prince, but the fairy tale is over. Teen girls are now required to appear at the Annual Ball, where the men of the kingdom select wives based on a girl's display of finery. If a suitable match is not found, the girls not chosen are never heard from again.
Sixteen-year-old Sophia would much rather marry Erin, her childhood best friend, than parade in front of suitors. At the ball, Sophia makes the desperate decision to flee, and finds herself hiding in Cinderella's mausoleum. There, she meets Constance, the last known descendant of Cinderella and her step sisters. Together they vow to bring down the king once and for all–and in the process, they learn that there's more to Cinderella's story than they ever knew . . .
Team Challenges (Team Fantasy)
There Be Dragons:
The House of Berethnet has ruled Inys for a thousand years. Still unwed, Queen Sabran the Ninth must conceive a daughter to protect her realm from destruction – but assassins are getting closer to her door.
Ead Duryan is an outsider at court. Though she has risen to the position of lady-in-waiting, she is loyal to a hidden society of mages. Ead keeps a watchful eye on Sabran, secretly protecting her with forbidden magic.
Across the dark sea, Tané has trained to be a dragonrider since she was a child, but is forced to make a choice that could see her life unravel.
Meanwhile, the divided East and West refuse to parley, and forces of chaos are rising from their sleep.
Read a book featuring the "Prophecy" Trope: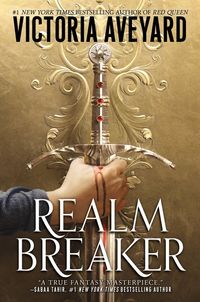 A strange darkness grows in Allward.
Even Corayne an-Amarat can feel it, tucked away in her small town at the edge of the sea.
She soon discovers the truth: She is the last of an ancient lineage—and the last hope to save the world from destruction. But she won't be alone. Even as darkness falls, she is joined by a band of unlikely companions:
A squire, forced to choose between home and honor.
An immortal, avenging a broken promise.
An assassin, exiled and bloodthirsty.
An ancient sorceress, whose riddles hide an eerie foresight.
A forger with a secret past.
A bounty hunter with a score to settle.
Together they stand against a vicious opponent, invincible and determined to burn all kingdoms to ash, and an army unlike anything the realm has ever witnessed.
What did you think of my picks? Are you participating in the trope-ical readathon?