Hi all!
Welcome or welcome back to my blog! I'm back today with a new discussion post! I haven't done one in quite a while, so I thought I talk about a popular topic! I'll be talking about why it's important to diversify your reading and what can come from it! I'll also be giving tips and recommendations to add to your TBR!
You may not be familiar with diversity books that much, and that's okay! Hopefully, you can gain some newfound knowledge on the importance of reading diverse books.

Let's get started!

What are Diverse Books?
If you don't know already, Diverse books are books written by marginalized authors. These books focus on characters that are from a marginalized group themselves. These books aren't set in just one specific genre rather they can be seen in all genres. You can learn more about different cultures and identities. You can support marginalized authors who don't get as much support from publishing companies.
Why are Diverse Books so important?
One of the most crucial reasons why diverse books are so important is representation. People should be able to see themselves in what they read. It shows that they can do anything they put their mind to. Many minority groups, different sexualities, and disabled people are not represented enough in media when they should be.
In 2019, a survey from the CCBC, they surveyed 3,716 books and took the percentages of main characters: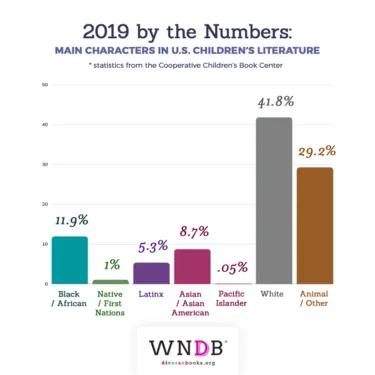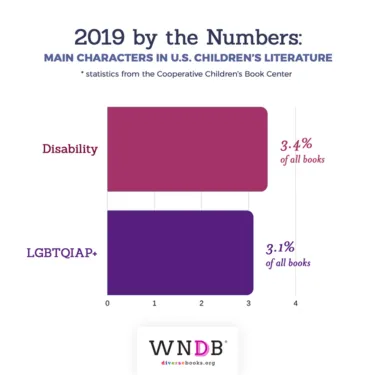 Even though this survey is from 2019, it is discouraging to see that still, so many groups are still being unrepresented in books. Their experiences should be valued as they make the world unique. If everything is the same, the world would be bland. By having more diverse main characters, It can break down harmful stereotypes and help others understand their situation.

Not only is it important that people are represented in books but we need to support marginalized authors. Over the past few decades, literature has been dominated by white, cis, straight people. Stories not told by these specific groups of people tend to not get into the public eye.
Based on the same survey conducted by the CCBC in 2019, When looking at books featuring characters that were written and/or illustrated by authors and/or illustrators of the same race, here are those breakdowns:
Black/African: 46.4%
First/Native Nations: 68.2%
Asian/Asian American: 100%
Latinx: 95.7%
Pacific Islander: 80%

By reading diverse books, we can support these marginalized authors. We can show publishers that we want to read their stories. It helps them to continue sharing their stories. Do you all remember in the 2000s when the YA genre was dominated by white, cis, straight characters? This group of people isn't a bad thing, but we should have characters that represent marginalized groups as well. We shouldn't just have one group of people being represented but many.
When reading the article "Just How White is the Book Industry," noted how 11% of books were written by POC published in 2018. According to a 2019 survey, 85% of people who acquire and edit books are white. This article also revealed that BIPOC was paid less for the same work.
Even though these are just a few statistics, we still have some work left. No matter what race, gender, sexuality someone is, everyone should have access to the same opportunities to share their stories. There has been some work done already that we should commemorate while continuing this work. If we use our voices to demand diversity, we can stand together to promote change.
Tips to start diversify your reading
Follow Book Influencers that advocated for diverse books
Read OwnVoices Books
Get books from Diverse authors
Get involved in book clubs that read diverse books
Make a TBR list of diverse books
Check your books at home to see which ones already are diverse
Particpate in Reading Challenges // Read-a-thons
Use resources to find new diverse recommendations: Goodreads, Google, We Need Diverse Books, and Book Riot
After I began to diversify my reads, I found them way more intriguing and captivating. I was able to empathize and understand what people were going through. I found a newfound interest in learning about different cultures, and I hope that someday I could travel outside where I live to see these cultures in action.
Recommendations
What if I already read diverse reads?
Talk about diverse reads you have or currently read

Share what you know about diverse reads with those who don't know!

Give recommendations to book clubs or your local library
Buy diverse books for friends and family as gifts
Thank you for checking out this post! What are your thoughts? See you next time!
Sources Used:
Herndon, Jaime. "Report: 2019 Diversity in Children's and YA Literature." BOOK RIOT, 26 June 2020, bookriot.com/diversity-in-childrens-and-young-adult-literature/.
"A New Era for Children's Literature." Diversity, Equity & Inclusion, 21 Apr. 2020, diversity.wisc.edu/2020/04/a-new-era-for-childrens-literature/#:~:text=Percentage of books depicting characters from diverse backgrounds,Book Center. 1% American Indians/First Nations 5% Latino/Latina.
So, Richard Jean, and Gus Wezerek. "Just How White Is the Book Industry?" The New York Times, The New York Times, 11 Dec. 2020, http://www.nytimes.com/interactive/2020/12/11/opinion/culture/diversity-publishing-industry.html.
Team, News. "Is YA Leading Diversity in Publishing?" Diversity Employer, 17 Dec. 2021, http://www.diversityemployer.com/is-ya-leading-diversity-in-publishing/.